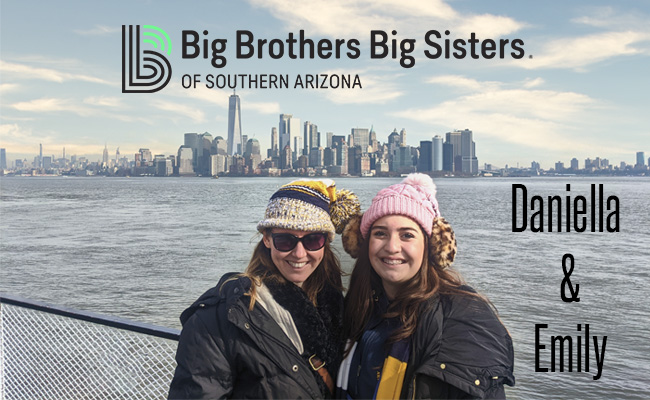 Walking through Time Square for the first time with her Big Sister, Little Sister Daniella stopped and said," Emily, I finally feel like I am in a place that gets me!" At first, Big Sister Emily didn't wholly understand what Daniella meant by that, but she went on to explain how all the colors, flashing lights, and energy in Time Square is what she feels and hears every day inside. Even after being matched for over two years, Emily is still learning new things about how her Little Sister experiences the world. Emily stated," It was an incredible learning opportunity for me to understand how Danielle's experiences may be a bit more amplified - which is why she might react to some situations with such deep emotions. Danielle still tells me that Times Square is her favorite place in the world."
Daniella and Emily were given the fantastic opportunity to take a trip across the country with Daniella's school to visit some of the country's most iconic landmarks. They went to Washington, DC, Philadelphia, Gettysburg, and New York City. The two were able to go inside the White House, their favorite stop there was the Green Room. While in NYC, they saw Wicked on Broadway and dined at a restaurant that preformed Broadway or Disney songs while guest enjoyed their meal. "I don't know if I have ever seen Daniella have more fun. She got into character and sang along; one of the waiters even serenaded her!" stated Emily. Daniella and Emily even worked on some of their Match Goals while on the trip, "Daniella and I also spent some time discussing methods of how to calm down and appropriate behavior. Daniella and I are doing a good job implementing those new methods!"
During this challenging time with Social Distancing, Daniella and Emily have remined in contact any way they can. They are talking on the phone twice a week and they never run out of things to talk about. Emily has been mailing Daniella sudoku games to help her stay busy and engaged. The Match and their Match Support Specialist have been brainstorming fun ideas of things to do together such as having a "Netflix party" and watch movies together over the phone, or learning new activities together through online platforms.
Thank you for allowing us to share some highlights from your fantastic trip. We can't wait to hear more about your future adventures.